9 customizable photorealistic frame PSD mockups to make awesome presentations of your designs. Show your clients how cool your designs look after they have been put in to real frames.
These mockups use 24×24 inches wooden frame close-up shots taken from various angles. The perks of these mockups are that they are super easy to use, time saving and give you cool customization options. You can add your design to the frame using the smart object and it will fit like it was photographed inside the frame.
Customizable Frame Mockups
The frame & mat board (aka mount) has customizable color tones. The background wall can be customized with color tone or even new textures. Shadows and light effects have their separate customizable layers, to making light and shadows adjustment simply a matter of few clicks.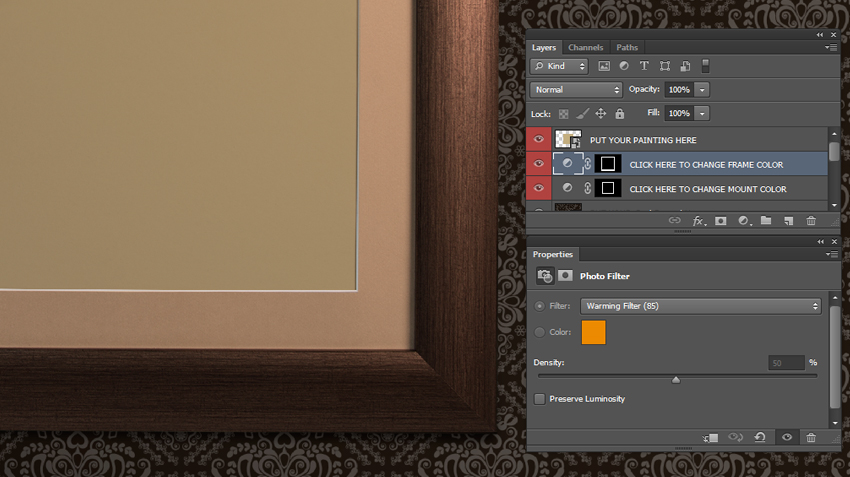 Included Frame Mockups:
Low angle close-up shot of wooden frame
Point of view shot of Wooden Frame from right side
Photorealistic mockup of dutch angle shot of wooden frame
Picture frame close shot from left side Normal view shot
Low-angle shot of picture frame with view from right side

Dutch angle shot of picture frame with editable backgrounds, frame and mat color
Tilted view of wooden frame mounted on textured wall
Beautiful eye-level view of picture frame mounted on dark textured wall
First person view of Photo frame mounted on wall with realistic lightning and shadows
Features:
Photorealistic Mockups
High Resolution @ 300 DPI
Customizable layered PSDs
Customizable layers of Frame & mat board (mount).
Changeable background wall (textures or colors)
Smart object to quickly add your design